I must begin by setting the bar low. I didn't take many photographs while back in the midwest. That said, allow me to detail the post chronologically.
We took off Wednesday afternoon from Bozeman on Henry's maiden airplane voyage. He did really really well, and only got a bit restless at the end of the flight. He really loved looking out the window on take off, throughout the flight, and upon landing. A big grin washed over his face when the plane lurched forward on take off. Arriving in Minnesota, we located my Dad's car and installed the car seat. We immediately went to Chipotle, which was AMAZING. The rest of the day went by quickly based upon settling in and grocery shopping.
Thursday morning I had to host a user-group meeting at the University of Minnesota. It was a major pain in the butt to navigate U of M given all the inter-campus construction. Steph picked me up when I was done, and we then made our way back to Edina for a trip to South Dale. In the evening, we had dinner at Vescio's with my Dad and my aunt and uncle Win and Sandy. Henry was throwing these little butter packages so hard that a few of them blew up when they hit the ground. He was a restaurant hero that night.
The next day my Dad came with us to the Children's Museum in St. Paul. It was such a cool place. Kids everywhere, and all sorts of sweet things to do. Henry went into a child labor portion of the museum where kids wore hard hats and moved blocks along a conveyor belt.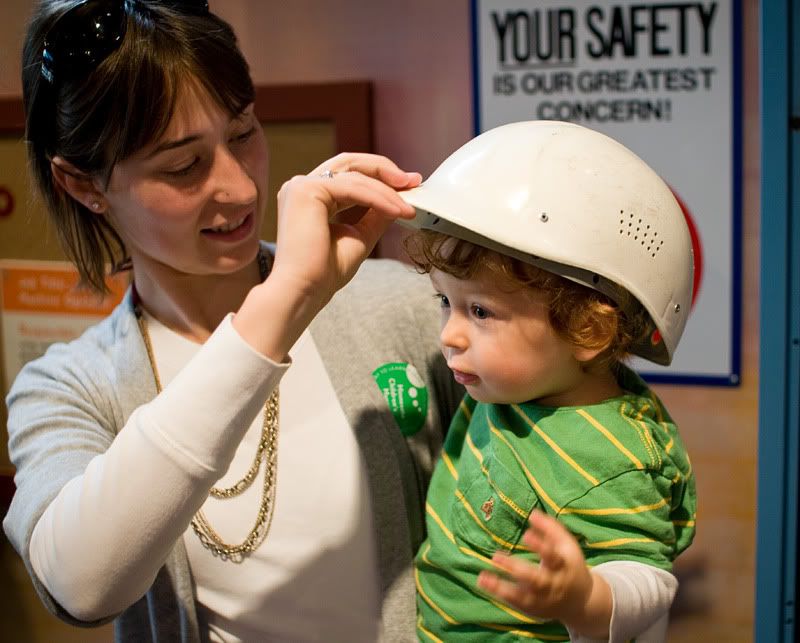 They had a huge water works section where Henry played with different fountains and moved a ping pong ball through a series of clear plastic pipes.
He went into this crazy room where kids could change the color of lights on a stage and then see themselves in a mirror.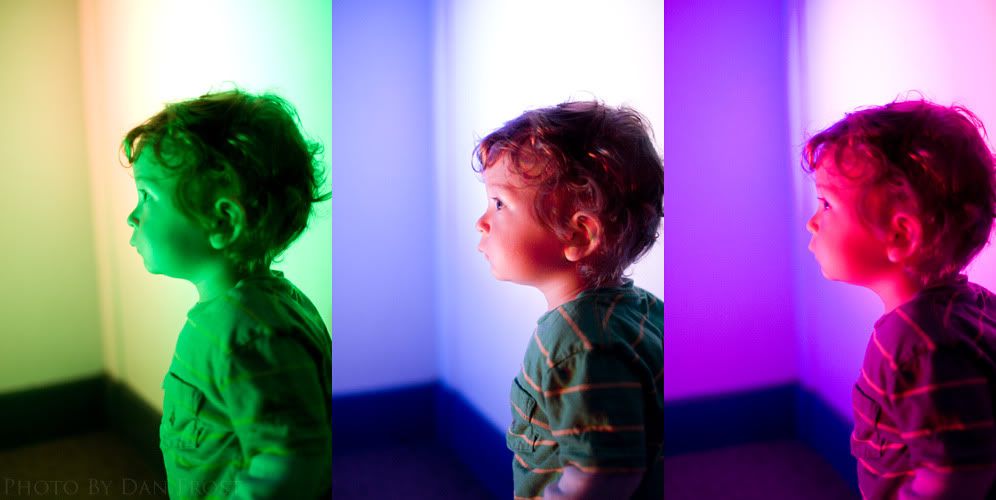 And his favorite part of the museum was a huge sand box that they had on a 4th floor outdoor terrace. It wasn't the first time he had been in the sand, but it was the first time he had been in sand with his bare feet. You could tell he really enjoyed getting sand between his toes. Stephanie and I could have probably safely left him there for an hour or two on his own.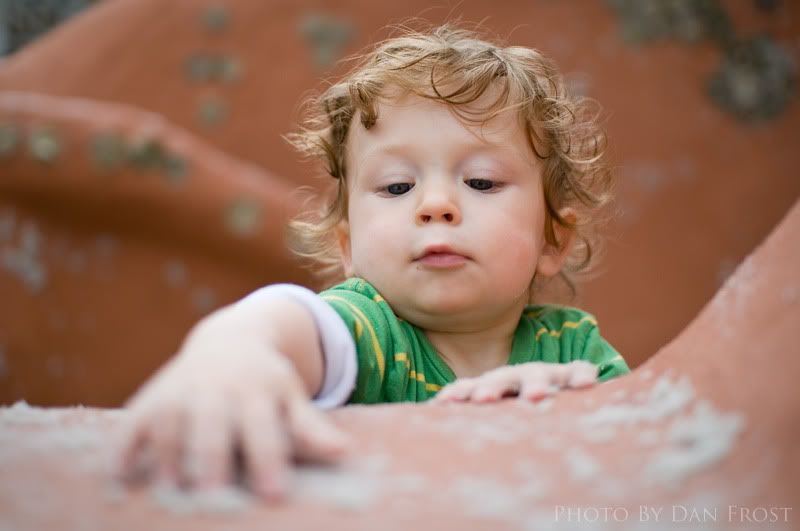 Later that day we went over to Stillwater and bummer around there for a while. We later met up with Steph's grand parents and aunt and uncle for dinner. Henry got a chance to explore a Hudson pier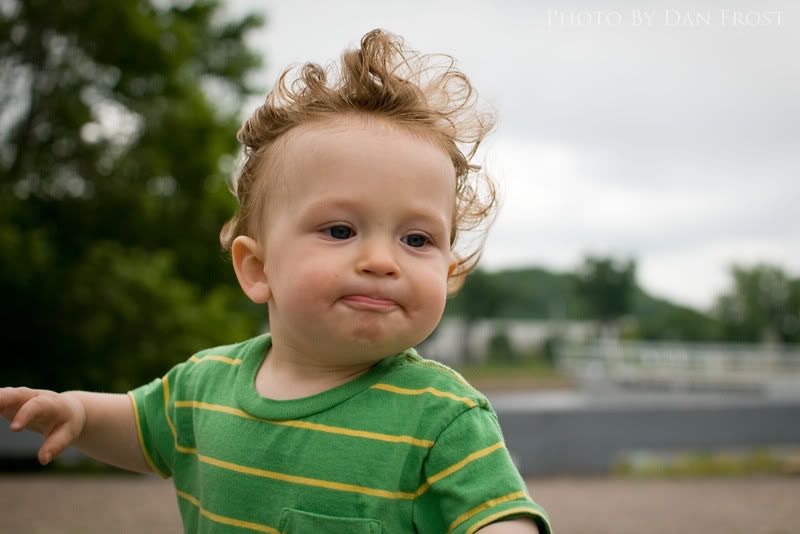 And buy some cool shades while we were in that part of town.
Saturday was the big day. I am just realizing now that I forgot to process photos from the pre party events. Henry, myself, and my Mom went to a play ground near her house in Wisconsin and Henry had a ton of fun playing in the puddles and going down the slide with my Mom. I will be sure to add photos here later.
Photos as promised!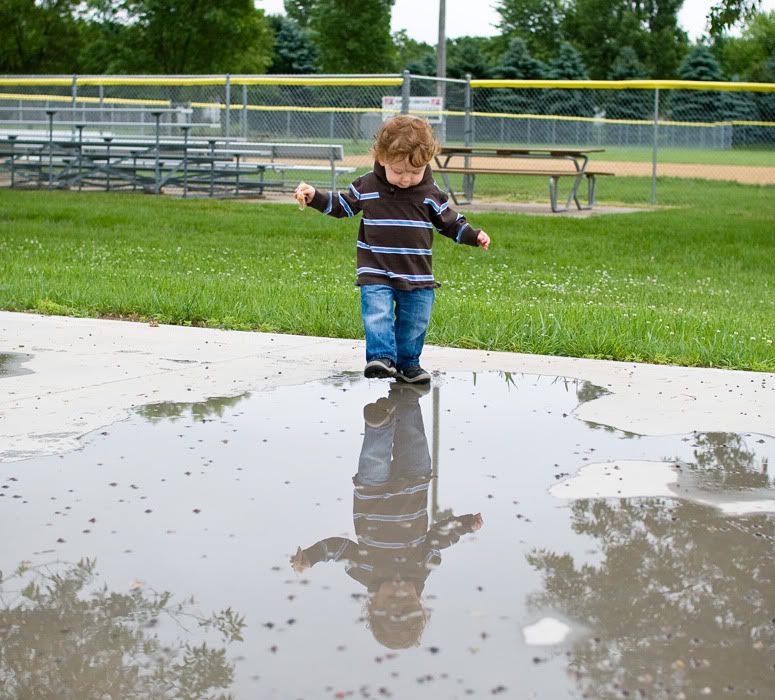 The party was great. Henry went totally wild. We had a balloon tied around his waist so that we could keep track of him and his crazy party antics. But, so the story goes, he wore himself out quickly and had to take a 45 minute nap mid party. Needless to say, he came back strong and was totally wild for the rest of the evening.
It was really really nice to see so many people that we hadn't seen for so long. There is still something strange for me about going back to Minnesota and not being in Mark's basement or in Wayzata in general. The dud(e)s that made it out arrived in style, and Tyler really represented himself as a fashion forward, modern gentleman. Henry was pumped to see Sean the Giver of PJ Bear. If only the party could have carried on to Bob's house or Mark's cabin or one of the other Eden like places I think of when I think of Minnesota fun. All the same, it was a great turn out and we are very thankful for the friends that we have and their participation in this part of our lives.
Unfortunately I didn't take any photos at the party. But I will conclude with this: we had a lot of fun, but are happy to be back in Montana. Henry has picked up right where he left off....
...as busy as he possibly can be.