Finally our baby has arrived! Stephanie gave birth to Henry James Gillet on Saturday March 7th, 2009. He was born at 4:25 MDT. Henry weighed 7lbs 7oz at birth, and was 19.5inches long. The full story follows.
Steph had contractions all night long, they were 45-80 seconds long, very intense, and 7-10 minutes apart. We were awake all night until about 6am when we got to the Bozeman Birth Center. Once we arrived our midwife Mikelann checked Steph discovering she was dilated to 3cm. She told Steph she could hop in the tub and ordered me to get some sleep. Steph stayed in the tub for almost the entire ordeal, coming out for about an hour and during that hour was in the shower. She was in active labor for about 8.5 hours, which is below the average of 12 hours for first time mothers. I hopped in the tub for about 4 of those hours. Steph was an animal through transition and the final pushes. She breathed down powerfully to push our baby out, her and her body seemed to know exactly what to do. The midwife said to her "two more contractions for the head, then one more for the shoulders" and on the next contraction Steph pushed him all the way out. The umbilical chord was wrapped around his head twice, but apparently the chord was long and loose enough that he was 100% A-Ok. He came up from the water and starter breathing and crying almost immediately. He was searching for the boob within 4 or 5 minutes, and was successfully feeding within 10. He has loaded up a few diapers since, so he has mastered pooping as well.
We brought him home to Steph's house for the first time today, and he seems to like it. Crendle, Steph's dog, is undecided about the whole situation.
Now... for the pictures! (descriptions will be above the photos)
(Steph in the tub)
(Just born!)
(This was the first time I had ever held a baby... ever... can you tell?)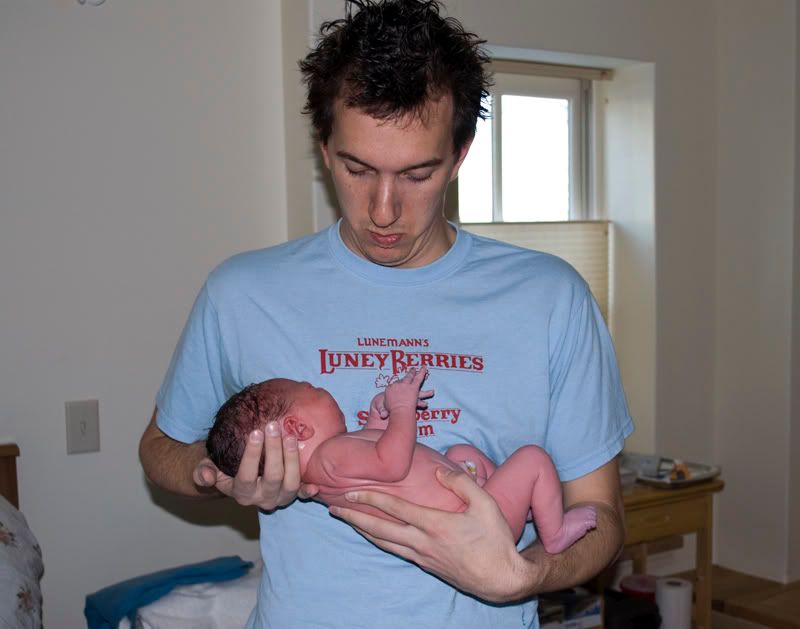 (Henry being weighed, 7lbs 7oz)
(All the girls oogling over him)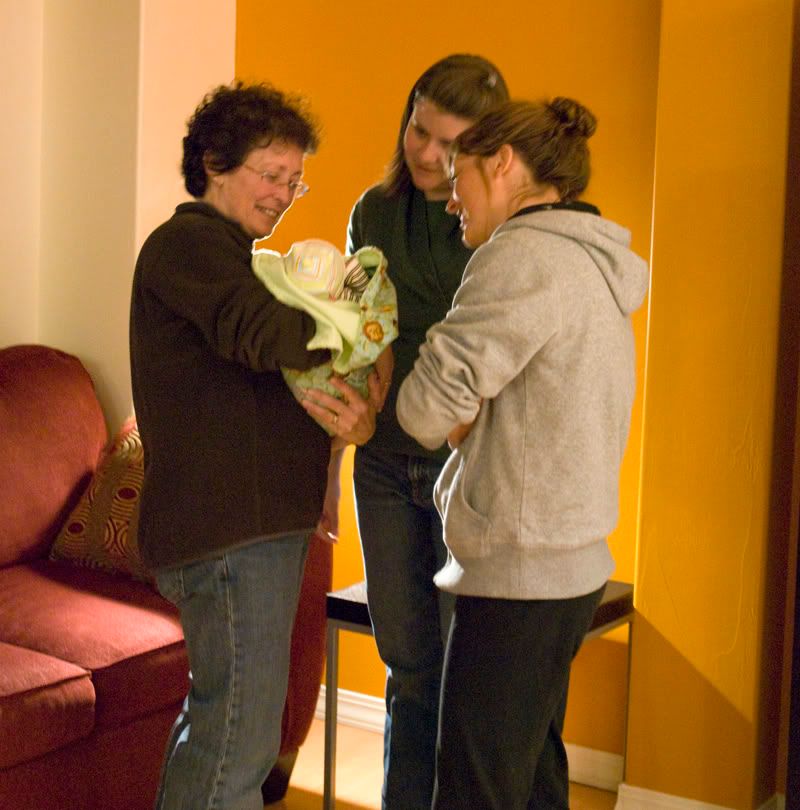 (Auntie Nelly)
Meet our son Henry